Fall Prevention and Older Adults
---
Fall Prevention and Older Adults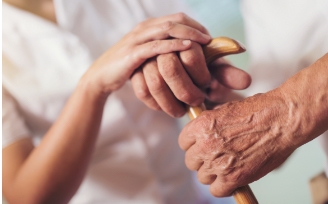 Falls can be serious, especially for older adults. According to the Centers for Disease Control and Prevention (CDC), falls are the leading cause of injury and death in Americans aged 65+ with a quarter of seniors falling each year. Even if someone isn't hurt after a fall, they may become afraid of falling again. The fear of falling causes people to limit their activities and cut back on social engagements. When someone is less active, they become physically weaker, increasing the likelihood of falls. Research also shows that falling just once doubles one's chances of falling again.
Are you worried about falling? We can help!
---
Proactive Steps Toward Fall Reduction
ComForCare encourages clients and families to take proactive steps to reduce at-home fall risks such as scheduling an eye exam and talking with their primary care physician about: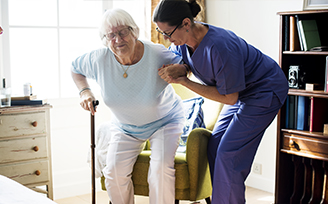 Medication side effects and health management
The need for a walker, cane or other assistive device
A referral to a physical/occupational therapist for appropriate exercises to strengthen their muscles
Participating in a fall prevention program
---
Qualifying for In-Home Fall Assessment
To see if you or a loved one qualifies for an in-home fall safety evaluation and fall risk assessment, contact us at 800-886-4044.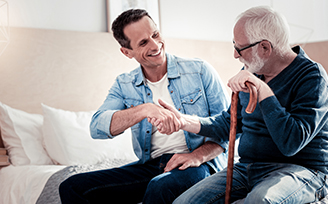 For more information about potential safety concerns, fall risks and tripping hazards in the home, please contact your local ComForCare office for details.
---
In-Home Evaluation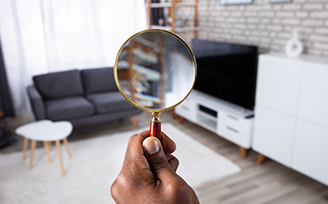 Falls are not a normal part of aging as most can be prevented. At ComForCare, we care about keeping clients safe in the comfort of their own home. To help seniors reduce the risk of falling in their home, many ComForCare locations offer in-home fall safety evaluations and fall risk assessments as part of the home care services provided. Safety supervision and fall prevention are also included in our home care services. Our home safety check evaluates all aspects of a client's living conditions.
During a home safety evaluation, a trained professional will look at things such as:
Are rugs and runners slip-resistant?
Is there torn or loose carpeting?
Is there adequate lighting?
Schedule a home evaluation:
---
Post-Analysis Fall Reduction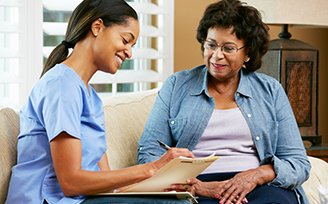 Once the inside and outside of the home are evaluated, your ComForCare team can make suggestions on how to reduce fall risks. Safety recommendations may include installing a raised toilet seat, shower bench or grab bars in the bathroom, increasing the lighting or removing rugs. These recommendations can help reduce falls in the home. During our fall risk assessment, a qualified representative will evaluate factors known to increase a person's risk of falling.
Information in a fall risk assessment includes:
History of falls
Mobility issues
Vision impairment
Medications
Chronic conditions