Compassionate Dementia Care Services in the Toronto and North York Area
---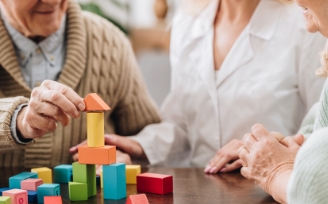 ComForCare provides dementia care services to individuals in North York, Toronto and the surrounding areas. Our caregivers are available for a few hours a week up to 24 hours a day, seven days a week (including holidays). We understand that symptoms of the condition may vary. Personalities may change, and surprising behaviors may appear. Some individuals may have difficulty communicating or have trouble completing tasks. Most likely, however, those living with dementia will begin to lose their memory.
Our dementia care services can help with as much or as little home care as your loved one needs through all stages of dementia. In-home care services can offer the helping hand your loved one needs to continue to live on their own, allowing them to experience comfort and convenience. When providing care, our caregivers focus on promoting quality of life and independence.
---
A dedicated dementia caregiver can help with:
Grooming

Bathing

Dressing

Incontinence care

Meal preparation

Social interaction and companionship

Maximizing independence

Safety supervision
When your loved one is diagnosed with Alzheimer's disease or another form of dementia, you need to feel comfortable with the care they are receiving. That's where ComForCare can help. We give you the support you need and the peace of mind you deserve so that you and your loved one can live your best life possible.
---
Alzheimer's and Dementia Care
Caring for a loved one with Alzheimer's disease or another form of dementia is a new journey for many family caregivers. Personalities may change and signs of challenging behaviour may appear. Some people may have difficulty communicating or completing tasks. Most likely those living with dementia will begin to lose their memory. Our caregivers are trained to identify the signs and red flags of dementia and Alzheimer's disease, and we are happy to share our knowledge with the families. We are constantly monitoring our clients and keeping family members informed of changes. We are a team, and we want to support you in any way we can.
---
Where Experience and Compassion Improve Dementia Care
When your loved one's abilities start to fade, you can turn to ComForCare. Through our knowledge and dementia care training, we deliver custom, in-home care services designed to make your loved one's days better, while preventing or reducing any challenging dementia-related behaviours. This means better days for you too!
With the help of our specially-trained personal support workers, our non-medical home care services allow individuals with any type or stage of dementia do more of what they enjoy in the familiarity and comfort of their own home. The dementia care services we provide are designed to help enhance the quality of life by helping clients remain independent for as long as possible.
---
As part of our dementia care services, we work with each family to:
Implement best practices for dementia care
Customize care based on your loved one's needs and preferences
Create daily routines
Meet physical and emotional needs
Follow strategies to decrease challenging behaviour associated with dementia
Engage in Meaningful Activities
When a person has the ability to live in their own home, they experience comfort and convenience. This can lead to better moods and more positive emotional experiences.
---
Whether your loved one needs assistance only a few hours a week or around-the-clock, our team is happy to help! Call (647) 349-3515 to learn more about the transition care services offered through ComForCare Home Care (North York, Ontario).